Features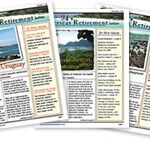 Overseas Living Letter: 1 Year Subscription
Our 1-year subscription to the Overseas Living Letter comes with Special Reports 1 and 2, as well as our Travel Tricks and Overseas Opportunity Letter.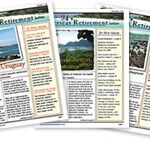 Overseas Living Letter: 2 Year Subscription
Our 2-year subscription to the Overseas Living Letter comes with Special Reports 1,2, and 3 as well as our Travel Tricks and Overseas Opportunity Letter.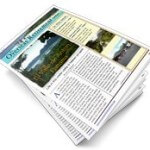 Overseas Living Letter
Receive monthly issues of the Overseas Living Letter, focusing on a different destination around the world each month.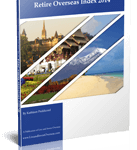 SPECIAL REPORT # 1: Annual Retire Overseas Index
In our Annual Retire Overseas Index, we identify and score the 21 best places on earth to think about spending your retirement.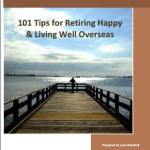 SPECIAL REPORT # 2: Join the Retirement Revolution: 101 Tips for Retiring Happy and Living Well Overseas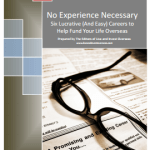 SPECIAL REPORT # 3: No Experience Necessary: Six Lucrative (and Easy) Careers to Help Fund Your Life Overseas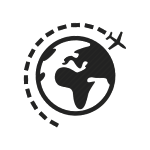 FAST-REPLY BONUS: Travel Tricks: How to Travel Better but Pay Less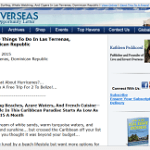 Overseas Opportunity Letter
Live better, retire in style, invest for profit, do business and own real estate overseas. Our Free Daily e-letter will show you how.
"ONE'S DESTINATION IS NEVER A PLACE, BUT A NEW WAY OF SEEING THINGS."
– Henry Miller
WELCOME
THE NEW RETIREMENT REVOLUTION
Dear Prospective Overseas Living Letter Subscriber,
The continuing series of financial debacles in the U.S. and elsewhere may be pushing you toward outright panic. How in the world are you ever going to be able to afford to retire?
You've got the answer to that question in front of you right now.
Economies collapse and then recover…values-of real estate, of stocks-fall and then rise again…financial meltdowns come and go…
When the living becomes intolerably difficult in one place…move to another!
I'm not being flippant. I'm giving you the secret to realizing the retirement of your dreams.
The first move is the hardest, I understand. You need help. And you need options. We're here to deliver both.
Let's start with this: The situation is far less desperate than you may fear. You do not have to resign yourself to reducing your standard of living during this important phase of your life. You do not have to plan for two or three decades of scraping by and making do.
But you've already figured this out, haven't you?
By signing on as a subscriber to the Overseas Living Letter, you will open your mind to the possibilities. You can allow yourself to begin to think outside the box and beyond your own borders.
As you read this, because you're reading this, you are launching a new phase of your life…maybe the best one yet.
Where will your explorations and considerations lead you? You'll have to figure that out for yourself, but, in these virtual pages each month, we'll introduce you to the top possibilities worldwide.
No, that understates things. We'll do more than make introductions. We'll cover each destination we feature in full, from colorful descriptions of the coastlines and the mountainscapes to practical details regarding the requirements for retiree residency status…from anecdotes about just how sweet the local living can be to insights into how to open a bank account and get a telephone line installed. From real estate, health care, and visas to grocery bills, owning a car, and bringing your pet…
As we prepared for the launch of this new service, Editor-in-chief Kaitlin Yent and I convened via Skype with our key editors and contributors worldwide to determine a short list of the World's Best Retirement Havens right now.
On that short list we placed: Panama, Nicaragua, Portugal, Belize, Ecuador, and Colombia .
No, again, I'm misspeaking. In fact, we didn't settle on these countries as the world's top six havens. For we realize that that'd be an almost useless recommendation for us to make.
When you begin focusing on this retire overseas idea, you realize quickly that you aren't going to retire to Uruguay…Mexico…or to any other country, for that matter. You're going to retire to a neighborhood or a community or a region or a seaside town in Uruguay or wherever.
Once you get serious about this, you realize you've got to thin-slice your foreign retirement options. You can't think about retiring to Portugal anymore than you could think about retiring in the United States.
What would that mean…to retire to the United States? What would the weather, the cost of living, the cultural distractions, or the scene outside your bedroom window be in the US of A?
What a silly question…with absolutely no response. You could determine what the weather would be like in Scottsdale, Arizona…the cost of groceries for a couple of retirees in San Diego, California…or the view from your poolside patio in Naples, Florida…but you couldn't possibly answer those questions for the United States considered as a whole.
Anymore than you could determine those particulars for the country of Uruguay considered as a whole.
On the other hand, here's a far more sensible question:
What would retirement life be like in Algarve, Portugal…or in El Valle de Anton, Panama…or in Ambergris Caye, Belize?
Those are the questions our far-flung, ever-on-the-move network of correspondents consider each month in The Overseas Living Letter, as they take you on a tour of the places we've identified as offering the best quality of retirement living even if you've got but a modest retirement nest egg.
Meantime, our Overseas Living Planning guru Paul Terhorst will help you make sure your retirement nest egg is as big as possible. He promises nothing close to "average advice." You can get all of that you want and then some from Yahoo and CNN.
In these pages each month, Paul will detail strategies and insights borne of 25 years of first-hand experience retired overseas. He'll show you how to arrange your financial life so that you can realize the retirement life you're hoping for…abroad.
Welcome to the New Retirement Revolution. Get ready for the time of your life.
Kathleen Peddicord
Publisher, The Overseas Living Letter
SO WHAT ARE YOU WAITING FOR?

Meet The Team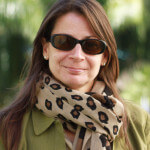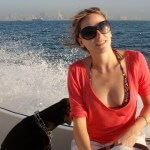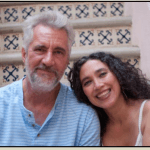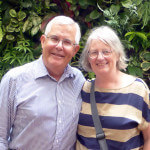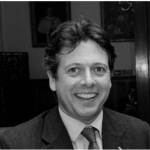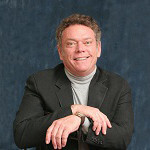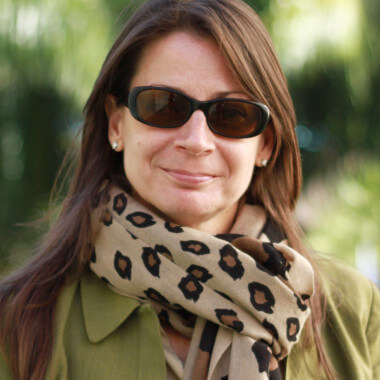 Kathleen Peddicord
Established in 2008, Live and Invest Overseas is the vision of Publisher Kathleen Peddicord.
Kathleen Peddicord has covered the live and invest overseas beat for almost 30 years and is considered the world's foremost authority on overseas retirement. She has traveled to more than 50 countries, invested in real estate in 21, established businesses in 7, renovated historic properties in 6, and educated her children in 4.
Kathleen has moved children, staff, enterprises, household goods, and pets across three continents, from the East Coast of the United States to Waterford, Ireland…then to Paris, France…and, most recently, to Panama City, where she, her husband Lief Simon, and their young son currently make their home and base their Live and Invest Overseas business.
Kathleen was Publisher and Editor-in-Chief of the International Living group for 23 years. She moved on from that role in 2007.
Today, Kathleen writes a weekly retire-overseas blog for U.S. News & World Reports and Huffington Post and is regularly quoted by The New York Times, Money magazine, The Economist, the AARP, and beyond. She has appeared often on radio and television and has written innumerable books (including a new one "How To Buy Real Estate Overseas" for Wiley and Sons to be released in March 2013), reports, and essays on where and how you can escape the retirement-tromping economy at home and live like royalty on a modest budget…invest for profits overseas ahead of the crowds…and secure your dream retirement in the world's best destinations.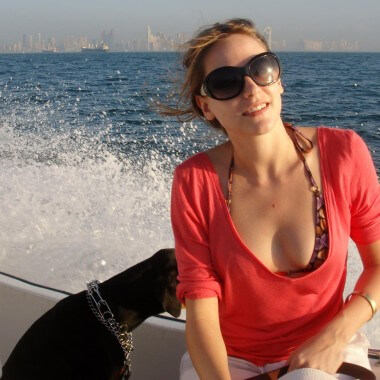 Kaitlin Yent
Kaitlin has grown up around the world, living in the United States, Ireland, France, and Panama and has traveled extensively. Upon graduation from university in the United States, she wasted no time in moving abroad again. She has lived in Panama full-time for three years, now working as Managing Editor for Live and Invest Overseas.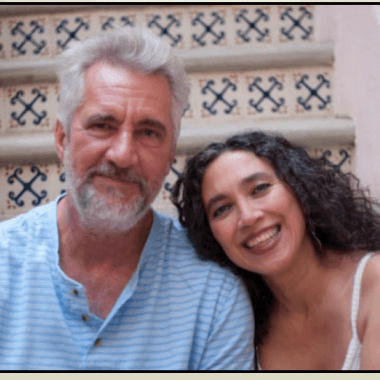 Mike Anderson
My wife, Ana, and I have lived in Mexico off-and-on for 20 years and, before that, five years in Antigua, Guatemala. Currently living in Guanajuato, we own rental property, and stay busy with travel writing, handcraft collecting, French studies, photography, and the swirl of cultural activities around town. While in Guatemala, I met and married Ana, a native of Antigua, and we owned three handcrafts stores, traveling all around the country in search of traditional weavings and pottery. In a past life in the USA, I worked 25 years as a software engineer.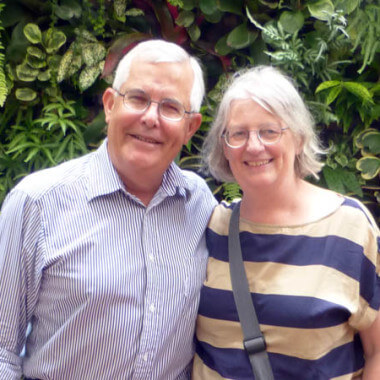 Paul and Vicki Terhorst
SmartMoney magazine (October 2007) calls Paul and Vicki Terhorst the "George and Martha Washington of cashing out." They retired in Argentina in 1984 at the very early retirement age of 35.
In 1988, Bantam Books (now Bantam Doubleday Dell) published their book, "Cashing In on the American Dream: How to Retire at 35," now a classic.
In 1992 Paul and Vicki became perpetual travelers, PTs, even though in 2005 they built a small house in rural Argentina to use during the summer.
We last ran into Paul and Vicki in Panama, where they crewed on a friend's sailboat across the Panama Canal.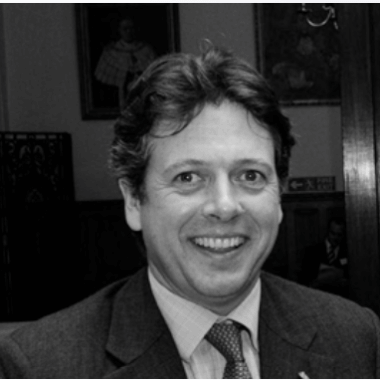 Jocelyn Carnegie
At the age of 18 Jocelyn began the long process of restructuring the family's property holdings by developing and managing a portfolio of 25 rental properties in his native Scotland.
Taking this experience with him, he joined the Edinburgh office of Knight Frank International where he worked for 5 years negotiating sales and marketing high-end residential real estate from $250,000 to $7 million.
Shortly after the break-up of the USSR and always eager for a new challenge, Jocelyn simultaneously helped to found a business trading soft commodities and developing regeneration projects in the transitional economies of the former Soviet Union, Central and Eastern Europe – particularly Russia, Belarus, Romania and Azerbaijan. Jocelyn successfully launched four UK government-funded projects in the fields of agriculture, forestry, textiles, land and real estate acquisition working between US, Ireland, Central Europe and the UK.
Jocelyn moved to France in 2000, managing to combine his experience of international property and his love of writing with the Agora Group, as a contributing editor and International Living's country manager for France and Central Europe. As such, Jocelyn helped many overseas clients to identify and purchase properties in Paris and France as well as participating in global conferences, real estate and investment tours – always happiest pioneering roving-editor adventures to some of Europe's wildest frontiers such as Serbia and Albania.
When an opportunity to work in undervalued land development in Central America came up in 2005, Jocelyn made the move across the Atlantic working in real estate and resort development in Nicaragua and Panama.  Having decided to make his base in Panama, Jocelyn went on to establish the Panama office of a successful UK creative design agency specialising in all aspects of real estate marketing. Within the last 2 years, the company has developed a unique interactive sales tool for developers, housebuilders and realtors now being used successfully worldwide.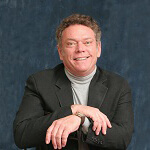 Lee Harrison
After spending six years flying with the U.S. Navy, Lee completed a successful 30-year career in the nuclear power industry. Taking advantage of a post-merger early retirement offer, he left the United States in 2001 at age 49 and retired to Cuenca, Ecuador.
Since that time, Lee has enjoyed properties in Ecuador, Nicaragua, Uruguay, Colombia, and the island of Itamaracá, in Brazil. Roving Latin America Correspondent for Live and Invest Overseas, Lee also writes and speaks for a number of publications about living abroad.
Today Lee lives and writes primarily in Uruguay, from his home in the beach resort of Punta del Este. He spends winters at his home in Medellín, Colombia, and a good portion of the year traveling and writing about retirement and investment opportunities throughout Latin America.
"TWENTY YEARS FROM NOW YOU WILL BE MORE DISAPPOINTED BY THE THINGS YOU DIDN'T DO THAN BY THE ONES YOU DID DO. SO THROW OFF THE BOWLINES, SAIL AWAY FROM THE SAFE HARBOR. CATCH THE TRADE WINDS IN YOUR SAILS. EXPLORE. DREAM. DISCOVER."
–Mark Twain
Testimonials
Keep up the great work…I honestly look forward to reading the succinct info you provide to potential expats…
— Dan G., United States
I read each one and always pick up some interesting and timely piece of inside knowledge.
— Robert C., Spain
…just a thank you for the immediate info without all the bull.
— Tom F., United States
I have to say that you seem to dig deeper into the feel of a particular place and to do comparative analysis between alternative places. Your approach is more sophisticated and thoughtful and therefore more useful than that of other e-letters I've read covering these same subjects.
— John W., United States
Kathleen Peddicord is like the Babe Ruth of overseas living.
— Scott U., United States
…I really have to commend you for your insight and honesty in 'telling it like it is' to your readers…
–Norman S., United States
Guarantee
You risk nothing when you agree to take a look at The Overseas Living Letter today. Here's why…
Guarantee No. 1: This Living-intelligence service is guaranteed to be the most straight-shooting, tell-it-like-it-is, get-there-first report available about the best-value communities on the planet. Sugar-coated Paradise-pushing doesn't do you any favors. So I don't do it. No place is perfect. And I won't tell you it is. But I've been at this for 22 years. And I will give you an honest, measured, educated assessment of each destination we feature. So you can decide if it's right for you.
Guarantee No. 2: I'll bring to you a splendid array of options all around the world. Beachfront retreats… cool-weather mountain hideaways… charming European enclaves… laid-back Latin American havens… vineyard sanctuaries… and more. But if you don't feel The Overseas Living Letter delivers the kind of make-your-nest-egg-last-forever opportunities you're looking for, you can cancel at any time… and I'll promptly reimburse you for any issues remaining in your subscription. No questions asked.
Guarantee No. 3: Should you decide the opportunities you learn about in The Overseas Living Letter aren't for you, all the SPECIAL REPORTS are yours to keep. Our way of saying thank you for giving The Overseas Living Letter a try.
That's how certain we are that you'll love it. You can't lose. And all the risk is ours.